Frequently asked questions – Q & A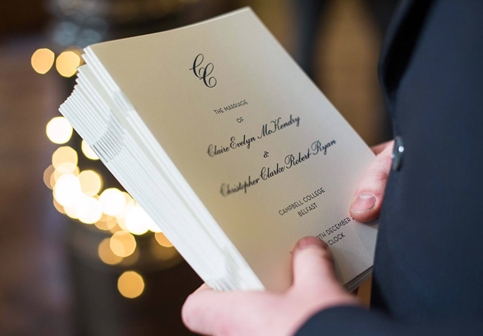 When should I come in to discuss stationery?
This is entirely up to you but we would usually advise coming in around 6 months prior to your wedding.  If you want to order Save the Date cards you may wish to come in a year before.  If you have left it a bit late – don't despair – we can offer you a Rush Order where you pay extra and receive your order more quickly.
How long does it take to get my stationery?
This can vary depending on time of year and your specific requirements but to give you an idea…..
Normal order
Once you have decided on your design and wording a proof usually comes within 1 week.  When you approve your final proof to print your order usually comes within 2-3 weeks.
Rush order
A proof usually takes a day, when you approve your final proof to print your order usually arrives approx. 1 week later.
How many invitations do I need to order?
Please do not guess your numbers.  Count up all your couples, all your singles and add up the total number of invitations you expect to send out – then add 15% extra to this number (to allow extras for making mistakes when writing out and also a few spares for people you decide to invite later once you receive some refusals).
When should I send out my invitations?
Most people send them out 8-12 weeks prior to their wedding.  You may wish to wait and send your evening invitations a little later in case some guests from the daytime list cannot come and you decide to invite an evening guest to the full day.
What basic advice would you give about choosing my invitations?
Your invitations are the first hint your guests receive about the style of your day and so play an important part in setting the tone.
Come in and discuss your requirements and get ideas by looking at samples.
You may wish to incorporate bridesmaid colours, motifs, lined envelopes, blind embossing or gilt edges and create something unique to you.
It is important that you see and handle samples before making your choice.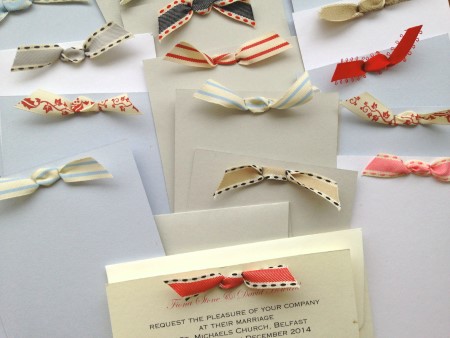 How do I word my invitations?
Don't worry about your wording – we can discuss this in detail with you and send you your wording before ordering proofs.  There are many ways to do this and we will go through the options.  Usually it is the bride's parents doing the inviting if they are hosting the wedding but sometimes it is the bride and groom.  Read more about wording your wedding invites.
How do I write my invitations?
Traditionally the name of the guest is written in the top left-hand corner of the invitation.  You can also word it so there is a dotted line within the wording for the name of the guest.  It is now getting more common for the guests' names not to be written on the actual invitations but to appear only on the reply cards.
Do I need reply cards?
In the past it was traditional for the guest to write a reply in the third person on headed paper.  It is now more common for them to buy a card or for you to provide reply cards.  This helps make them reply a little more promptly and allows you to ask them questions about meal choices, transport etc.
What items of stationery might I need?
There are lots of different items you might wish to order, see all the wedding stationery options.  Some people order only their invitations from us and others get everything..
Items you may need:
Daytime invitations
Evening invitations
Reply cards
Information sheets
Menus
Place cards
Table names
Table plan
Orders of Service
Thank you cards
What price can I expect to pay?  When do I pay?
This can vary greatly depending on your exact requirements and how many of each item you need to order.  We will try to work with you so you get an invitation you love within your budget.
Invitations start at £155 for 100. You might expect to pay £400 upwards for 100 bespoke invitations.  We will always give you a full quotation before you place your order.  A 50% deposit is payable when you order your proofs.  The balance is payable upon collection of goods.
I hope that answers some of the questions you may have, but if you have any more questions please do not hesitate to get in touch.  Contact Jules.