Next Step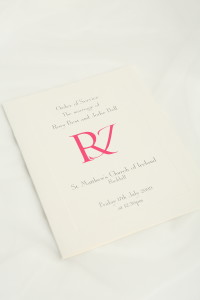 Choosing your style
Various factors will dictate the look and feel of your invitation.
– Size and shape – single or folded
– Colour and texture of card
– Printing method
– Colour of ink(s)
– Possibly a motif – such as a monogram. This can then be used on all the stationery and possibly other items. This can make a real impact on the style of your wedding.
Traditional invitations with distinctive copperplate script look elegant and timeless but you may want a more contemporary or even a quirky look.
You may have a theme eg vintage or modern – or a particular colour that you wish to carry through all aspects of your wedding.
Invitations can be simple or elaborate depending on the look you want to achieve – we can include blind embossing, gilt edges, lined envelopes, tissue wraps, ribbons – the possibilities are endless. We could even include an illustration of your venue or church.
Contact Us
We advise that you contact us at least 6 months prior to your Wedding Day.
You can make an appointment to view our extensive range of samples and to discuss your requirements – we love to meet new brides!
If this doesn't suit you could phone us or contact us by email – we can then send you samples.
We will also discuss wording and help you work out how many invitations you require.
Quote
After discussing what you want we send you a full quotation for the items you require.
We also send you your wording and a date plan to keep you on track.
Decision
If you decide to go ahead with your order you then send us back your amended wording and we order your first proofs.
Proofs
These usually take about a week to arrive after placing your order.  You may decide to make some amendments – you will then receive a second set of proofs before placing your order.
Order
When your are absolutely sure that your proof is perfect you tell us to print.
A deposit of 50% is payable at this stage.
Delivery
Usually your order arrives 3-6 weeks after approving the final proof.  The balance is payable upon delivery/collection.
Timing can vary depending on various factors such as time of year and availability of materials.  Extras such as engraving, gilding and lining envelopes will all add extra time to the order.  If you are in a rush we can jump the queue so you receive the order more quickly – there is a charge for this service.
Queries
If you have any queries please do not hesitate take the next step and contact us – we would be delighted to hear from you.