Invites for a Wedding at Campbell College
Jules recently received an email from a happy couple thanking her for their wedding stationery and sharing with her some photos from the day.
Claire and Christopher McKendry got married at Campbell College on the 20th of December 2014.  Below is photo of them leaving the ceremony took by photographer Mark Barton.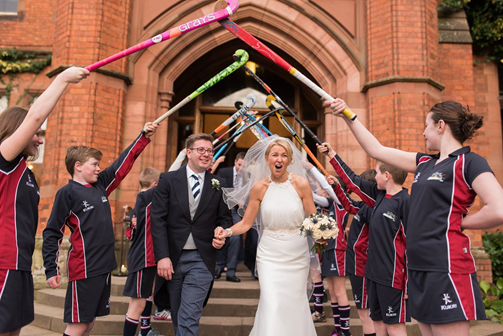 Claire and Christopher's wedding had a very elegant style with an ivory and deep blue colour scheme.  Candle sticks and frosted foliage gave a romantic winter feel to the wedding reception and contrasted to the warm dark woodwork of this beautiful wedding venue.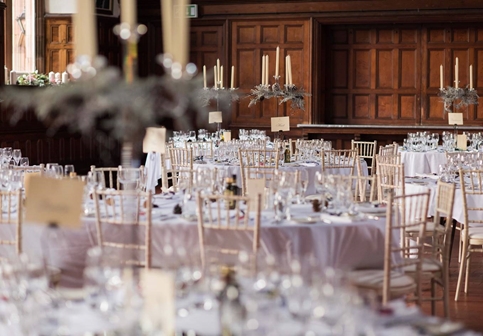 The couple wanted quality wedding stationery with a classic style to suit the tone of their wedding.  Below is a beautiful photo taken by Mark Barton of the couples "order of ceremony".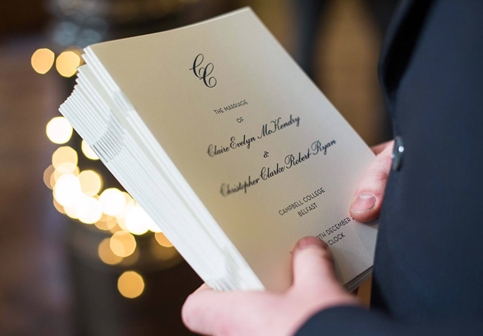 Below is a copy of the email Jules received shortly after the wedding.
Julie Anne,
Look how gorgeous all your products are!! You cannot be thanked enough for how much the invitations, thank you cards, reply cards, information sheets, writing paper, table plan, menu cards and table numbers! Now thank you cards too!! All set the standard for my wedding, and exactly the perfect tone! It really really means a lot, I was so particular about the feeling of my day, and all your touches were absolutely key to the success of this, both on the day and more importantly in the build up to the day, you worked tirelessly with me to ensure that I was absolutely happy with every single detail and even read my mind to know what I would like, everything was exactly how I imagined and I genuinely cannot thank you enough!
With love and sincere thanks,
Claire and Christopher