Week by Week Wedding Stationery Date Plan
I am often asked for guidance as to when each item of Wedding Stationery should be ordered.  I hope you find this Date Plan helpful.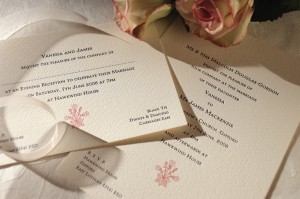 24 weeks before wedding
Appointment with stationers.
You are best to come in and discuss your ideas well in advance of your wedding.  You may wish to incorporate a special theme, colours or a motif.  It is best to handle the invitations to get an idea of the quality before making a decision.  You may wish to take some samples home.  The appointment can take a couple of hours by the time you choose card colour and texture, fonts etc.  At this stage we also discuss your wording and the various items you might need.
23 weeks before wedding
Receive wording for invitations and reply cards. We will also give you a full quotation.
22 weeks before wedding
Send amended wording back.  You may also need to provide us with the wording for your information sheet should you require one.
20 weeks before wedding
Receive proofs – this is your opportunity to correct any errors and make any final adjustments to the design.
19 weeks before wedding
Receive amended proof and check all details are correct before signing off to print.  Make sure that you have ordered the correct amount, allowing for spares.
Also make sure you that you compile your full guest list along with completed addresses so you are ready to write your invitations when they arrive.
16 weeks before wedding
Details finalised and order placed.
This first order usually includes daytime invitations, reply cards, evening invitations and information sheets if required.
15 weeks before wedding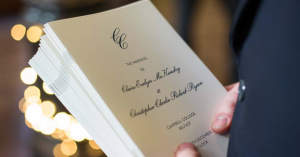 Begin to compile your Order of Service.  You will need to decide on music, readings, hymns, soloists etc.  This all needs to be approved by the person conducting the ceremony before sending to us.
12 weeks before wedding
You should receive your invitations around now and can start writing them out.  You may wish to send a few early if they are going abroad.
11 weeks before wedding
Send us a typed Order of Service and also the wording for your menu if required.  You may also wish to order table names, place cards and thank you cards.
9 weeks before wedding
Receive proofs for Order of Service, menu etc.  Send back any amendments.
8 weeks before wedding
Approve proofs for remaining items and send to print.
Send out Wedding Invitations.
4 weeks before wedding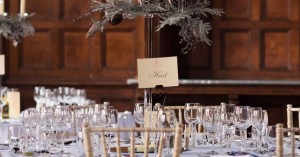 Receive remaining items – Order of Service, Menus, place cards, table names, thank you cards.
3 weeks before wedding
Send in details of table plan for proof.
Write out place cards.
2 weeks before wedding
Receive proof of tableplan –  make any amendments  – receive reproof and approve to print.
1 week before wedding
Receive tableplan.
Enjoy your Wedding!